2021 Oregon Sporting Clays Hall of Fame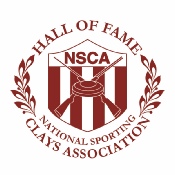 The votes are in and we have Three Oregon Sporting Clays Hall of Fame inductees for 2021: Tom Jones for his shooting achievements, David Farley, and Dick Wasson for service.
Each individual's contribution whether it be their career shooting achievements or their dedicated service, has advanced the sport of Sporting Clays in Oregon for decades. All have served as Oregon's ambassadors to the sport and have represented us well on the local and national stage.
The initiation ceremony will be held at the 2021 Oregon State Championship.
Their
Shooting Award - Tom Jones
My competitive shooting started in the mid-60's attending Skeet tournaments in New Jersey, New York and Connecticut. I was able to win High Junior and place in my Class at many shoots with my trusty Rem 1100. The Tri-State Open Championships were my favorite at the historic Remington "Lordship Club" in Connecticut, shooting over the shoreline cliffs into the Atlantic Ocean. In my first week at college I received a letter to inform me that I qualified to Try-out for the 1972 Olympic Team in Texas. I was flattered but knew a college degree was more important in the long run. I wouldn't shoot competitively again for another 24 years; college, raising a family, starting a business career, and coaching youth sports meant no time OR money.
In 1995 I entered my first Skeet tournament in Oregon and the next year I joined NSCA after hearing about the new game, Sporting Clays. Back then the two major clubs were Tri-County and Muddy Creek. I caught the Sporting Clays bug at a league shoot at Tri-County Gun Club. It almost didn't happen as I was intimidated by all the fancy guns and gear and decided to walk back to the car when Craig Miya turned and asked me "where are you going, you want to join us?" I grabbed my trusty Rem 1100 with fixed Skeet chokes and shot a 7/50 and had the best time ever! I doubled my score in the afternoon with a 14/50. The next year I bought my Browning 425 and my team won the League Championship.
Thus far in my career I've shot over 83,000 registered Sporting targets and over 13,000 Skeet. Several career highlights were being Oregon Skeet HOA 3 times and ran a 200 straight, was HOA at the 2000 Oregon State Sporting Championships and shot the first 100 straight in the 2001 Oregon State Sporting Championships Preliminary Event at MCTS in Salem. I was able to win either the HOA, RU or 3rd RU at the Oregon State Championships in 2002, 2004, 2005, 2006 and HOA again in 2021. I've won numerous Oregon, Idaho and Washington State Championship titles over the years including the Iron Man at the Zone 7 Championships in Idaho Falls. I've really enjoyed shooting in the Willamette Valley Clay Target League starting in 2010 and have won the HOA title numerous times. I'm particularly proud to have been named to the NSCA Oregon All-State Team 19 times between 2000 and 2021.
In all my years shooting competitively my greatest reward has been meeting the many wonderful fellow shooters and Club Managers at all the fabulous venues we're blessed to have here in the Pacific Northwest. I will always cherish my friendships and I am truly honored by my HOF recognition.
Thank you all.
Service Award - David Farley
David was Oregon's second NSCA State Delegate, serving during the 2000's when the sport was growing rapidly in popularity. For many years during his tenure as Delegate, David would organize the shoot schedules and would pay for the printing and postage out of his own pocket, so all state members knew what was going on. Some years there had to be multiple mailings due to schedule updates. David has shot over 112,000 registered targets. He was also one of Oregon's earlier NSCA certified instructors and he retired being a Level II Instructor. David served on the Salem Trap & Skeet Club's Board of Directors for almost two decades.
In David's words…
My shooting career started when I was 9 years old when my dad sent me to my Uncle's ranch in Fall Brook, California to spend the summer. My uncle taught me how to shoot his single shot .22 rifle. I've been shooting ever since then.
I was introduced to trap and skeet shooting in the early 1980's and quickly figured out that this was great! You got to shoot a lot and received immediate gratification of watching the "bird" break…..or not! The trap and skeet shooting was soon replaced with the new sport….."Sporting Clays" Alas, I was really hooked. I spent all the spare time I had shooting, reading about shooting, taking all and any lessons I could find and studying the new sport.
As the newness of sporting clays wore off, I realized that I got almost as much pleasure out of working with shooters. Watching their abilities grow and getting to know them personally. This gave me great pleasure.
One thing that I did that I was really pleased about was spending all the time I did with Dan Mitchell working with other "clubs" and getting them "up to speed" so that they were in a position to host our Oregon State Shooting Championship.
Many years have passed and I have met many wonderful people, had some great experiences and still love saying to a shooter, "you might want to make sure your cheek is on the stock if you want that bird to break."
Service Award - Dick Wasson
I grew up hunting quail, pheasants and crows in the west side valley, in fact, my senior year I bagged 27 roosters after football practice.
My intro to clays began when my ship pulled into Subic Bay, Philippines to pick up fuel & ammo as a member of the "Tonkin Gulf Yacht Club" 1968-69-70.
I hopped off the base bus to check out the gun club, there were 8-10 skeet houses and for $1.25 you got a box of shells, 25 clays and a shotgun off the rack! I tried a round and was hooked!
Back to Subic, the next time in port I shot a round with two loud marines and the CO of a Minesweeper. The marines were loud but when I shot my first 25 straight, they got quiet, the Lcdr complemented me. I shot another 25 straight then missed on #73.
Started shooting clays again 25 years later when son, Tom and I were introduced to Sporting Clays. We shot at the State shoot that year and we were squadded with Skip and Bev Zapffe and Nathan Pakish! They were very helpful!
I wanted to share the sport with others so thanks to Dan Mitchell we started the first of 20 years Oregon Hunters Association (OHA) fun shoots. A year later we started the Youth Shotgun Skills Clinics, 19 of them with all volunteer coaches. We introduced hundreds of young shooters, ages 8-17 to learn how to safety handle a shotgun and shoot clay targets as their proud parents watched on. We organized instructors and I led the search for sponsors to donate ammo, targets, hats, lunch and prizes. Every year we secured enough prizes so that every participant walked away with a prize.
I also chaired two Ducks Unlimited shoots with Dan Mitchell's expertise.
Youth Outdoor Day at Camp Adair provided another 14 years of shotgun intro to Valley youth, we averaged 300 kids per event until COVID put a pause to the event. All these events don't happen without many volunteers, a Big Thank You to all.