2020 Oregon Sporting Clays Hall of Fame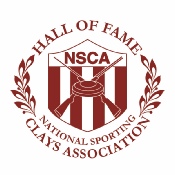 The votes are in and we have FIVE Oregon Sporting Clays Hall of Fame inductees for 2020: David Bleha and Keith McClung for their shooting achievements, Jerry & Diane Harpole, Dan Mitchell and Steve Wilhite for service.
Each individual's contribution whether it be their career shooting achievements or their dedicated service, has advanced the sport of Sporting Clays in Oregon for decades. All have served as Oregon's ambassadors to the sport and have represented us well on the local and national stage.
The initiation ceremony will be held at the 2021 Oregon State Championship due to the cancellation of the 2020 event.
Their
Shooting Award - David Bleha
David Bleha has dominated the Oregon State Sporting Clays Championships finishing at or near the top of the scoreboard in all events for multiple years. In the shooting stand he is all business but when he's not, David makes sure that he is available to help other shooters of all abilities. David uses his humor and his considerable skills to simplify this daunting sport for all those who seek his advice.
David has shot over 106,000 registered targets and has amassed numerous titles such as, 5-time All-State Team (1997-2020), 2-time All Zone/Region Team (2008 & 2016), All-American Team (1991), 9-time Oregon State Champion HOA (1997-2019), and the National Champion, 3rd Runner-Up (1989). There are numerous other state titles and regional awards won by David over his career.
David, his wife Linda and his beloved dog Buttons lives in Klamath Falls where he owns and manages B&B Clay Sports. He is always busy building stocks, shell bins for friends, building airplanes (he is a licensed pilot) or truck motors, shooting tournament targets, hunting, reloading, and working on other projects. Now retired, they spend winters at their home near Ben Avery Shooting Range in Arizona.
In David's words, "One of my proudest accomplishments has been the establishment of B&B Clay Sports. The friendships developed, the great young men given opportunities, and the dozens of Oregon Champions that have come from this small club. That makes me proud."
Service Award - Jerry & Diane Harpole
I don't recall how Jerry and I stumbled across the Siuslaw Rod & Gun Club, but we did. We started out shooting Trap, Jerry even competed in a couple of shoots, (that was interesting). After being around the Club a while Jerry heard about a small group of guys that were shooting something called Sporting Clays. He went over to the Club on a Sunday morning to give it a try and was immediately hooked. There were maybe 6 stations, all with hand throwers. The guy throwing the targets carried the box of clays with him. But it was so much fun Jerry soon became a "regular". I went and watched a few times and decided that it didn't look too hard and then I was hooked. We gave up Trap and never looked back.
It wasn't long before the guy who owned the throwers mentioned that he was tired of trying to run Sporting Clays and wondered if Jerry was interested in purchasing the hand throwers. We negotiated a deal and purchased Siuslaw Sporting Clays in January of 2000. Sporting Clays had been at the Siuslaw Rod & Gun Club in some form or another for many years before we purchased it, but it hadn't been expanded much. We started with those same hand throwers but quickly started to grow the business. With the support and encouragement of many people like Steve Wilhite through the years we've been able to keep growing.
We had our first NSCA registered shoot in 2004, Wow that's 16 years ago! Jerry has created a name for himself with his creative target setting, and we've participated and helped at several State Shoots. Jerry has also helped with fun shoots and league shoots at other clubs SOME OF WHICH don't even exist anymore, Corvallis Trap & Skeet, a one-time sporting clays adventure at Albany Gun Club, and others I've forgotten. We both enjoy shooting, but it's difficult to help with a shoot and still compete, we're just in it for fun now.
We have met so many wonderful people and made so many great friends through sporting clays, we feel honored to be part of the "Clays" community.
Shooting Award - Keith McClung
During the 1990's when Sporting Clays was in its early development days, Keith was a dominant competitor in Oregon, regionally and nationally. He would travel to compete in Sporting Clays and Pigeon shoots nationally from his hometown of Klamath Falls. Keith would roll into a local Sporting Clays event and his gun and shooting gear would still be drenching wet from just coming back from a pigeon shoot across the country! He always had a great story to tell of his shooting travels.
During his career he has amassed over 66,000 registered targets, 4-time Oregon All-State Team member (1997-2010) and 2-time Oregon State Champion HOA (1996 & 1999).
Some additional shooting accomplishments he remembers most are; Runner Up in the 5 Stand event at the USA Nationals, California State HOA, US Open .410 bore HOA, and many gold coin buckles from pigeon shooting with wins in California, Nevada, Texas, Louisiana, and North Carolina. But as Keith says, "what I remember most are the great friendships made along the way."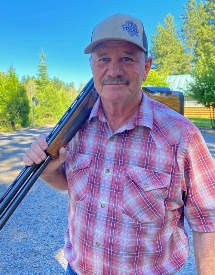 Service Award - Steve Wilhite
Born in Caldwell, Idaho, Steve started his shooting career with a Red Rider bb gun, harassing sparrows with his young buddies. He moved to Kenya, Africa at age 10, where the recreation was hunting. He attended high school at South Eugene and was an All State football player. Steve attended college at George Fox University and medical school at OHSU and then moved to Eugene in 1980.
Steve became a member of Creswell Clay Target Sports (then Cottage Grove-Eugene Sportsman's Club) in 1981. He started shooting Olympic trap and traveled throughout the USA to various tournaments, including Olympic tryouts. Once Sporting Clays arrived in the USA, it became "his" game. He traveled the USA and world shooting Sporting Clays and FITASC. He won a gold medal in 2001 as a member of the Team USA (veteran class) in New Zealand.
During the 1990's, Steve and Dr. David Abel started out arranging shoots in Oregon, with one called 'The Doctor's Shoot'. People came from all over the USA to shoot this annual fun shoot. This was done for several years. One year 143 shooters participated.
Corvallis Skeet Club (known as the WVSA) was a very well-run club located on airport property and had an excellent tall tower and 5 Stand. Steve bought enough traps to start shooting sporting clays and teamed up with Jerry and Diane Harpole and put on a registered shoot at the Albany Rifle and Pistol club. They also started an annual league shoot (the WVCTL), which still exists. The city of Corvallis refused to renew their lease, so the club had to disband on October 2, 2009. Steve hired an attorney to help the club disperse the assets legally. So, all assets were distributed to four different clubs, including Creswell (CGESC).
CGESC received enough cash to buy 4 brand new skeet machines and a few Sporting Clay machines. The current skeet houses were donated by the Salem Trap & Skeet Club. The old Winchester single stacks were completely refurbished and used for 5 Stand. This, plus major donations from individuals, grants from the NRA (Dr. Abel and Steve became college "professors" at LCC and conducted shotgun training at CGESC for one term). The class was quite popular, and they received an NRA grant for their efforts.
Sporting clays became the salvation of this club and their active youth programs are a key feature for securing grants.
Over the years, Steve and a dedicated group of hard-working volunteers host monthly registered shoots, various Fund Raiser events, and signature tournaments such as the Iron Maiden, the Spring FITASC Classic-South, and the Iron Man. To date, they have hosted the Oregon NSCA State Championships three times.
Service Award - Dan Mitchell
During my 12 years at the MCTS/Salem club, we hosted numerous state shoots, Oregon Hunter Assn., Boy Scouts, Boys & Girls Club, National Turkey Federation, Ducks Unlimited and numerous recreational fun shoots all because of sporting clays. Mitchell's Clay Target Sports was honored as Club of the Year by the2002.
I was a tournament director for numerous NSCA shoots (U.S. Open, Western Open, other state shoots, Nellis AFB and Desert Hills Classic in Las Vegas; involvement in all these shoots helped indirectly to bring shooters to Oregon for our state shoots and clubs within our state. Also, while at MCTS/Salem I served on the NSCA Advisory Council, NSCA State Delegate and Zone 7 Delegate.
After 45 years in clay target sports, shooting on the Navy skeet team, winning numerous skeet shooting titles my best part of those years were the last 20 years of operating 2 gun clubs. Making a place for all shooters and their families to enjoy was my choice over winning a tournament. I found out winning a shoot was great but making a gun club for others to enjoy made us all happy. Happiness is not real unless you can share it.
The passion for the clay target sports that I had was indescribable. I could not have achieved my goals without a great board to work with who understood my passion, a support team of my friends that helped with the tournaments and especially, the shooters participating daily and watching them have fun.
I will never forget the happiness I felt during this time of my life.